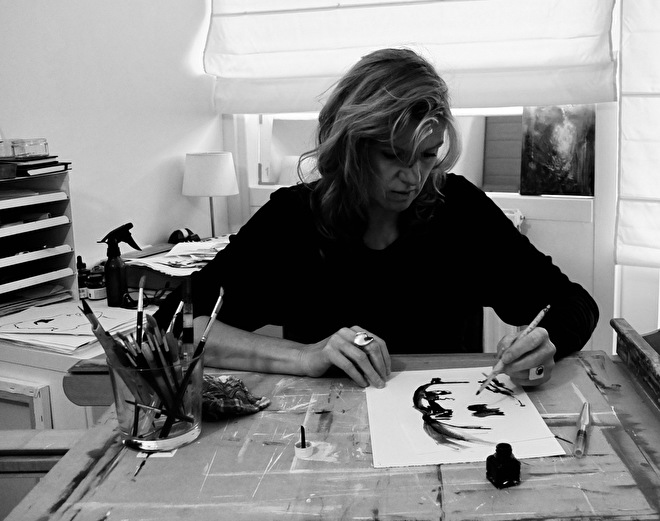 At aafcorbijn.com we are working on t-shirts, tanktops, pencil cases, shoppers and who knows what else will follow. From Aaf Corbijn to aafcorbijn.com is a brisk walk through time. Aaf starts at the fashion academy in Groningen. Amsterdam, however, is gently calling and suitcases are packed. Aaf follows make-up classes and becomes a make-up artist, work she is still doing today. She learns to cut hair following the freewheeling technique of Christiaan according to whom the shaping of hair should be a subject in art school. She exchanges the capital for the city of peace and justice, The Hague and starts following classes in designing and handcrafting jewellery, starts sculpturing using stone and wood and starts studying Architecture at the KABK, the Art Academy in the Hague. She says it is here that they really teach her to look and to really see. Still she likes painting and working on canvas better than three–dimensional designing. This is how she starts working on her heads. First she uses large canvases, later on she picks up the brush to draw her heads with a few strokes. They appear in a calendar and.....on fabric. We end where Aaf started, fashion...
For Aaf it is the image that counts. So it is here we stop with the words.
AAFCORBIJN.COM ENJOY!
Free shipping on orders over €75 within Europe and on orders over €100 outside Europe
Shopping cart
No items in shopping cart.